Color in a room
Behind every concept there is always a visionary truth.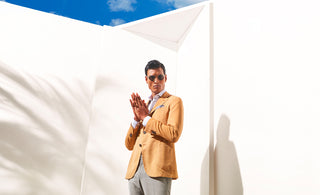 You know when we say "You are my light" to someone who matters to us in particular? Or think about the mythical title of a song "The sky in a room". Have you done it? Here, that same centrality that you are imagining in doing so represents Eredipisanò's way of seeing man .
One in front of which the ceiling disappears and everything around seems to be just white. Because at the center only he illuminates and colors the environment.
This is the concept of our summer campaign. A limited but open-air space. An environment that is filled with human presence. Of the style of the Eredipisanò man who, as we often love to repeat, knows how to be at ease in every circumstance . In a naturally simple but no less sophisticated way. Where sophistication is nothing other than elegance.
Be it a formal piece or a casual piece, even a costume. The difference lies in quality and knowing how to always be at ease. Always ready.